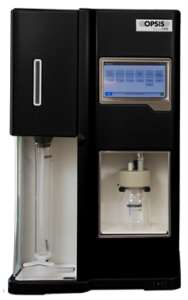 Our KjelROC Distillation unit offers full control of the distillation process at a low cost. The instrument is a Kjeldahl apparatus with full control of alkali, water, and steam. There are two versions of the steam distillation system – one with automatic addition of receiver solution and one without. All our KjelROC models can be upgraded.
Expandable System. Low Cost for Upgrade
The KjelROC Distillation Unit can easily be upgraded to a full KjelROC Analyzer or an Autosampler.
Automation and Traceability. Increased Efficiency
The KjelROC Distillation Unit is completely automatic with programmable addition of alkali, water, and receiver solution. There is full traceability with the possibility to track samples as well as retrieve log files from the instrument. The Automatic Distillation unit is also delivered together with the OPSIS LiquidLINE LabConnect software which makes it even easier to manage your results. The automatic unit can be connected to external titrators.
Chemical Resistance
The OPSIS LiquidLINE BlackLINE coating provides a unique corrosion protection. Our instruments are Prepared for ISO 17025 and GLP features, reduce time and costs when integrating the instrument into the Lab procedures.
Our KjelROC range of automatic Kjeldahl analyzers offers innovative, precise and cost efficient solutions for distillation, titration and determination of protein according to the Kjeldahl method. The Kjeldahl apparatus provides steam distillation according to official methods and the OPSIS LiquidLINE unique predictive titration gives several advantages in the lab.
Unique Analytical Precision
The OPSIS LiquidLINE Predictive Titration lowers the Relative Standard Deviation (RSD) and increases flexibility with different indicators. The Kjeldahl distillation is controlled via the easy to use touch screen. Large, refillable burette saves time and costs when moving between high and low content protein.
Connect Your Laboratory
The OPSIS LiquidLINE LabConnect software is included with each Analyzer system and makes your work with the instrument easy, samrt and effective. The possibility to send and receive results, significantly reduces the integration and IT costs. It is also easy to connect your KjelROC to your LIMS or other information systems.
Low Maintenance Costs
Prepared for ISO 17025 and GLP features, reduce time and costs when integrating the instrument into the Lab procedures. The instrument provides easy diagnostics and follow-up of both instruments and components.
Adaptive Workflow
The KjelROC Analyzer is fully flexible to adapt to your existing lab procedures or you can use our ready to use programs.
KjelROC automaattinennäytteenvaihtaja
The KjelROC Autosampler provides laboratories with an innovative instrument that determines protein and nitrogen according to the Kjeldahl method. The predictive titration, patent pending, gives the user several advantages in the lab. The KjelROC Autosampler is fully automatic and is able to handle up to 25 different samples automatically. The principle is simple, insert a tube rack with samples and return later to collect the results. The KjelROC Autosampler is a Kjeldahl apparatus capable of steam distillation, titration and automatic exchange of samples.
Autosampler Saves Costs and Improves Quality
The possibility to send and receive weights and results, by using different devices, reduces the integration and IT costs significantly. Data files are prepared to work with LIMS and other systems. The same computer can also be used to enter the data at the balance and transmit data to the Autosampler, which leads to increased efficiency in the laboratory. An Autosampler reduces the operator time spent with the instrument.
Improved Analytical Result
The OPSIS LiquidLINE Predictive Titration lowers the relative Standard Deviation (RSD) and increases the flexibility with different indicators. This gives increased usability of your instruments. The Autosampler also uses a large, refillable burette, that saves time and cost when moving between high and low content protein.
Standard in all our digestion blocks are selectable programs, timer functions and possibility to select between Celcius and Fahrenheit. Our more advanced blocks offer an automatic motor rack.
Automatic Programs Saves Time
Automatic programs make the KjelROC Digestors easy to use. Alarm signal and/or automatic cooling simplifies the surveillance of the process.
Automation Saves Time and Reduce Costs
KjelROC Digestors Advanced models saves even more time with fully automatic motor rack.
Lower Maintenance Costs
All Digestors and Scrubbers built with high endurance materials. From high quality borosilicate glass to high quality EN 1.4404 stainless steel.
Environmental concerns are always important to consider and therefore we recommend to use scrubbers together with our KjelROC Digeston blocks.
Reliable and Easy with a Small Footprint
The KjelROC Scrubbers are built to work in an environment with high corrosive fumes and high temperatures. All materials are carefully selected. Small footprint and ease of use has been prioritized when designing the OPSIS KjelROC Scrubbers. No water is required for installation and use.
High Standard
All KjelROC scrubbers can be supplied with optional water cooler and water traps for additional efficiency during extraction.
The OPSIS LiquidLINE SoxROC Extraction Unit is an automated hot solvent instrument that can extract fat according to official methods. The instrument is based on Randall and Twisselmann techniques, using hot solvent and a closed system to reduce extraction time versus manual Soxhlet. The SoxROC follows officially approved methods for fat extraction.
The SoxROC is designed to be flexible and is therefore also capable of extractions using other solvents and samples. Available in 2 and 6 position models.
Reduce Time. Reduce Errors
With SoxROC, you can extract as many as 42 samples per day with no loss in precision or accuracy.
Automation of all extraction steps and an innovative batch handling reduces risk for errors.
Reduce Costs
Unique sealing system with more than 90% recovery reduces cost for solvents and efficient water cooling reduce water consumption.
One single compact system without wires or computers reduces costs for installation and operation.
Add Flexibility. Add Safety
Security with high standard against dust, liquids and explosives. All valves close to solvents are ATEX classified. Operator safety is important and the SoxROC is equipped with protection shield, closed addition of solvents, and easy removal of recovered solvents.
OPSIS LiquidLINE brings an innovative solution for acid hydrolysis, making total fat determinations more efficient and safe. The hazardous hydrolysis process can now safely be performed with up to six samples simultaneously. The unique HydROC filter brings additional cost and time savings.
Save Costs with Clever Filter Technology
The HydROC filter can be used several times which makes it more cost efficient than any other solution on the market.
Clever solution saves cost on other consumables
System compatible with several other extraction systems on the market
Reduce Errors in Total Fat Analysis
The HydROC filter can be used in both hydrolysis and extraction steps, avoiding sample transfer errors and saving time
The HydROC and SoxROC batch handling system saves time when moving samples between hydrolysis and extraction
Complete separation of samples removes the risk for contamination.
Safe Design
The acid hydrolysis is performed in a closed system, reducing risks for the operator
Sample rinsing without any contact with acid reduces safety hazards.
Complies with standardized methods