Kemiallisessa analytiikassa näyte koostuu aina sekä itse havaittavasta aineesta (näyte), että sitä ympäröivästä väliaineesta (matriisi). Sentrifugointi ja kiinteäfaasiuutto ovat näytteiden esikäsittelymenetelmiä, joilla helpotetaan tai mahdollistetaan analyysi monimutkaisesta, mittausta häiritsevästä matriisista.
Sentrifugi kaikkiin käyttökohteisiin
Sentrifugeja käytetään nesteen ja kiintoaineen erotteluun toisistaan monilla eri aloilla, kuten ympäristö-, elintarvike-, lääkeaine-, ja kliinisessä kemiassa.
LabTech Gyrozen -sentrifugisarja tarjoaa laajan skaalan sentrifugeja moniin eri tarpeisiin laboratorioihin, pienistä pöytämalleista aina lattialla seisoviin, ison kapasiteetin laitteistoihin.
Välineet kiinteäfaasiuuttoon
Kiinteäfaasiuutto (solid phase extraction, SPE) on kemian alan menetelmä erotella ja väkevöidä näytteitä liuenneesta faasista. SPE:ssä nestemäinen näyte puhdistetaan joko sitomalla analyytti tai häiritsevä aine patruunaan, ja tällä tavalla puhdistetaan näyte häiriötekijöistä itse analyyttiä varten.
SPE on usein hyvin käsityövaltainen työvaihe, mutta LabTech tarjoaa myös useita eri automatisoituja SPE-laitteistoja. Laitteistoja on eri kokoisille patruunoille, sekä myös SPE kiekoille, ja eri näytemäärille sopivina.
Labtech's range virtually satisfies the needs of any modern lab with its 14 models divided in 4 families covering low and high speed, ventilated and refrigerated, small and large capacity, bench top and floor standing models supported by an incredible array of accessories that provide flexibility and versatility.
Best by design, quality and flexibility
When the Dutch physicist Christiaan Huygens coined for the first time the term "centrifugal force" in his DeVi Centrifuga published in 1659 he could not imagine what an innovation he brought into the scientific world. Lot of time has passed since then with a succession of discoveries and improvements such as the Nobel Prize awarded to Theodore Svedberg for the invention of the ultracentrifuge (some 900.000 xg!) in 1926
or the first floor standing unit with refrigeration introduced by Ivan Sorvall in 1955. It is even thanks to those pioneers that nowadays laboratory centrifuges are crucial instruments in countless applications from genetic engineering to hematology, from drug discovery to pathology, from marine science to agriculture, and you name it.
Micro Centrifuges
3 compact units designed to offer maximum performance in a small footprint for every workstation up to 27.237 xg, either refrigerated and ventilated, carrying popular microtubes.
Low-Speed, Clinical Centrifuges
3 compact, robust and versatile low-speed models, either ventilated and refrigerated, well suited for routine work reaching up to 3960 xg. Max capacity 4x100 mL and 6x50 mL fixed angle.
Large Capacity, High-Speed Centrifuges
3 multi-purpose, large capacity, either bench top and floor-standing, centrifuges including the top-of-the-range model that can process samples up to 54.111 xg. Max capacity 4x750 mL or 8 x 400 mL blood bags swing out and 6x500 mL fixed angle.
Multi-Purpose, High-Speed Centrifuges
5 high-speed and versatile centrifuges that share rotors, buckets and accessories so as to offer a cost-efficient solution and save precious bench space. Speed ranges from 12.000 to 15.000 rpm generating rcf values from 16.582 to 25.910. Max capacity 4x750 mL swing out and 6x250 mL fixed angle.
Key Features
Fast cooling
Cooling down to 4℃ from room temperature within only 5 minutes saves time
Up to 100 (or 10) program memory
Errors avoided and protocols maintained
Motorized lid mechanism


Safety and convenience

Rotor ID
Automatic rotor identification for safe operations
Automatic lid release
Speed and safety
Large assortment of rotors, buckets and adaptors
Extreme flexibility and investment reduction
User ID and password function
Ideal for multi-user labs
Automatic RPM/RCF conversion
Easy detection of g-value delivered to samples means quality
Excellent price/performance ratio
A solution for any budget
Orgaaninisen näytteen teko (SPE)
Solid-phase extraction, commonly referred to the acronym SPE, is an extraction technique that uses the affinity of a solid substance (solid phase), generally packed in columns or disks, with one or more substances present in a more or less complex matrix.
Best by design and flexibility
The Solid-Phase Extraction (SPE) sample preparation method was developed by a combination of extraction and chromatography. It is mainly used for separation, purification, and concentration of samples. It has found applications in environmental protection, food, petrochemical, clinical drug analysis, life sciences, etc.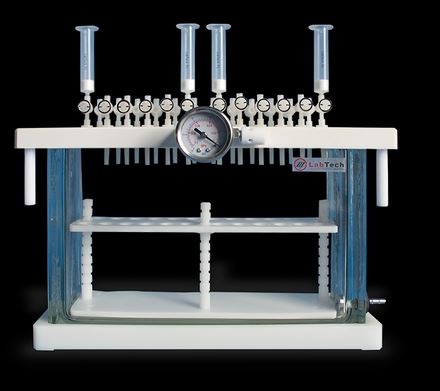 WSPE
Manual Vacuum Manifold
Differently than any other systems, the LabTech WSPE vacuum manifold features a patented valve system able to grant precise fl ow control through each cartridge. The WSPE vacuum manifolds allow to process up to 12 (WSPE12) or 24 (WSPE24) samples simultaneously.
Glass base resistant to solvents preventing condensation and discoloration

Anticorrosion cover to avoid deformation under high-pressure working conditions

High quality and reliable PTFE rack

Screw-type solvent resistant vacuum regulator for accurate vacuum control

PTFE rack for 11, 13 and 15mm tubes to satisfy daily use and virtually all laboratory needs
Extrapid
Manual Cartridge-Disk Extractor
The Extrapid manual SPE system is the ideal partner when treatment of large volume samples is required. A unique and fl exible extraction solution for standard and routine SPE needs in environmental analysis.
3-ways valves to effi ciently control the sample collection and the waste discharge

Up to 4 samples run individually or simultaneously

1, 3, 6mL cartridge and 47, 90mm disk options

Flow control valve ensuring accurate fl owrate and high reproducibility

Sample fl owrate from 1 to 45mL/min

Parts directly in contact with solvents made of PTFE or stainless steel to ensure excellent anticorrosion resistance
Sepaths UP
The Innovative SPE Solution
The Sepaths UP is designed for both cartridge and disk applications to treat samples with different volumes. It automatically treats from 1 to 12 same or different samples, through the whole treatment process, including condition, sample loading, rinsing, elution and concentration.
From 1 to 120mL/min fl ow rate
Sample volume from 1mL to 20L
Different cartridge and disk available
Different sample collection vials options
Display for real-time process
Possibility to manage via software up to 8 solvents
1 to 12 samples run simultaneously
SepLine-S
Automation and Productivity Concept
The SepLine-S automated solid phase extractor is the result of the latest liquid-solid extraction techniques and mass chromatography highest requirements in terms of sensitivity and reproducibility.
The SepLine-S series includes two models: Single and Dual channels. Condition, sample loading, rinsing and elution steps are processed automatically by software according to user needs. A unique low-pressure sealing technology accurately controls the liquid fl ow through the syringe and avoid cross contamination.
Automated process of sample transfer, rinsing, loading, drying, washing and elution
Positive pressure pump to ensure accurate flow rate and high recovery
Automated holder up to 60 cartridges controlled via software
Up to 7 different solvents managed via software
User friendly software with intuitive graphic interface
Air bubble technique to prevent solvent/sample cross-contamination
Key features LabTech SPE solutions

Simplification of complex sample matrix
Low contamination possibility
Saving time during analysis
Best pre-concentration
Process than can be fully automated
Higher accuracy and reproducibility