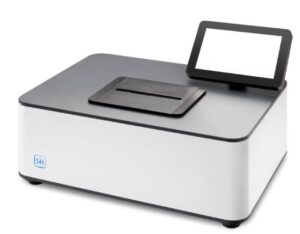 The SCHMIDT + HAENSCH VariPol is the newest and fastest generation of precision polarimetry. It is especially designed for pharmaceutic applications, but it can be adapted to further uses. Its unrivaled precision in measurement is paired with modularity, flexibility, and rapidity. State-of-the-art connectivity allows for seamless integration into your extended network of devices and permits monitoring your measuring results using our Aqusys Software on your phone or tablet.
The new, sophisticated design is nearly half the size of our earlier models and is packed with new features and highly integrated hardware. The SCHMIDT + HAENSCH expertise of over more than 150 years in polarimetry is reflected in all components like the fortified aluminum core, the built-in quality indicator of samples, as well as the check of calibration standards. The new integrated peltier system can change 10 °C in 30 seconds to highest precision. After stabilization of the temperature the measurement itself takes only 6 seconds. Optimized electronic components result in a low power consumption and, together with a modern standby mode, the VariPol  delivers fast reaction times and helps to preserve resources.
Thanks to our LED light technology the light source is maintenance free during the instrument's lifetime, saving you maintenance costs and downtime.
Basic Polarimeter especially designed for pharmaceutical applications – 21 CFR part 11 ready
Modular configuration
Multi-user concept and remote control via internet browser
Rapid measuring
Peltier system for automatic temperature control
Easy to calibrate
Constant precision over the whole measuring range, space saving
Energy saving durable LEDs
ELN; LIMS ready
Our sample tubes' tension-free design allows fast cleaning and permits exchange of cover glasses without birefringence. The seamless sample chamber has no dead space allowing fast rinsing without deposits. The rotatable sample tubes and quartz standards allow you to check quickly and easily their cleanliness and correct performance. The instrument, as well as tubes, quartz plates, and accessories are all made in Germany to ensure the quality and performance you are expecting from SCHMIDT + HAENSCH. Together with a gear-free polarization detection you have the constant SCHMIDT + HAENSCH precision over the whole measurement range.
With a 100mm sample chamber, the VariPol is designed especially for pharmacological applications and provides compliance with the International Pharmacopoeia, 21 CFR Part 11, OIML, and Australian Standard K57. Documenting GLP and GMP is possible with the VariPol. The VariPol is adaptable in numerous medical, chemical, and sugar applications as wavelength modules can be exchanged to allow a flexible operation.
The fully automatic digital polarimeter Unipol 2020 is especially designed for chemical applications. It can also be used for purity analysis of food and beverage as well as cosmetics. The resolution of Unipol 2020 conforms to the European and American Pharmacopeia. GLP/GMP conform data can be directly printed or transferred to your PC. In conjunction with the SCHMIDT + HAENSCH Software AQUISYS 2, all requirements of 21 CFR Part 11 conformity are fulfilled.
The standard model is equipped with a 589 nm light source. Other wavelengths are available upon request. Various chemically resistant polarimeter tubes are available for different applications. With the use of micro tubes, smallest sample volumes are sufficient. The polarimeter Unipol 2020 is equipped with plug-in connector for the temperature sensor of the SCHMIDT + HAENSCH polarimetric tubes. If polarimeter tubes or quartz control plates with integrated temperature sensor are used the current sample or quartz temperature is indicated on the display. In addition to one parallel and two serial interfaces, a PS2 interface is integrated in these polarimeters for connecting a barcode reader or keyboard.
Maintenance and calibration can be done with quartz control plates manufactured in our company in the heart of Berlin.
Basic circle polarimeter
Reliable high precision
21 CFR part 11 ready
Compliance with international standards
The measuring range of ± 360° can be divided in user-selected segments which can be easily selected by the menu. The user- friendly menu structure of the instrument is easily operated with the splash-proof alphanumerical keyboard. Software design close to practice enables the user to input sample ID-numbers, calculate statistical evaluation, and configure user defined printout of the measuring results. The measuring values are shown on the large LCD display.
The fully automatic digital polarimeter Unipol 2020 was particularly designed for chemical applications, but it also has numerous applications in purity analysis in the food and beverage and cosmetics industries. Optically active substances can be easily measured and raw material quality identified. Compliance with the International Pharmacopoeia is guaranteed.
Polartronic V polarimetri
The SCHMIDT + HAENSCH Polartronic V is the fully automatic, allrounder instrument amongst the polarimeters. With continuous, speedy measurement, it combines high resolution and highly accurate and reproducible measuring results over the whole measuring range.
With its robust metal housing and the user-friendly operation system the Polartronic V demonstrates high-performance for different applications. Due to its ability to measure continuously it is applicable for control of changes in concentration, depending on time or reaction. Data can be stored in internal measuring data storage. GLP/GMP conform data can be transferred to printer or PC. The long-lasting LED light source and the remote diagnostics and servicing contribute to a minimal maintenance effort. Calibrations can be performed with certified Quartz Control Plates made in Germany. Together with the Aquisys 2 software with internal 21 CFR Part 11 software and temperature-controller tubes it is also perfectly suited for pharma applications.
Continuous and speedy measurement
Intuitive operation, industrial standard interfaces, internal data base function, internal 21 CFR Part 11 software
Stainless steel housing for rugged conditions
Wavelength (882 nm) for dark sugar solutions
User-friendly operation system
Pre-installed user methods
Flexibility through modular connection with instruments such as SCHMIDT + HAENSCH ATR-P
With its robust metal housing and the user-friendly operation system the Allrounder is a high-performance polarimeter for different applications.
The SCHMIDT + HAENSCH Polartronic V Allrounder is designed for the polarimetric determination of starch in raw materials. Polartronic V is perfectly suited for the sugar industry, food and beverage production laboratories, and the pulp and paper industries, where it can assist in determining starch and cellulose content.
The SCHMIDT + HAENSCH Polartronic V can also be applied for pharma applications such as chirality testing and the determination of enantiomeric excess. Polartronic V measurements comply with the International Pharmacopeia, OIML, ASTM, ICUMSA, Australian Standard K157.
Saccharomat V sokeripolarimetri
With its worldwide unique quartz-wedge technology, the Saccharomat V is a fully automatically compensated sugar polarimeter. The working principle with quartz wedges is unique and unrivalled in accuracy until today. This Polarimeter does not need recalibration and will deliver reliable results throughout the entire product lifetime. Energy saving LED light sources keep maintenance efforts minimal.
As quartz has an optical rotatory dispersion (ORD) almost identical to that of a sucrose solution, SCHMIDT + HAENSCH developed a unique mechanism using a quartz wedge to compensate for small wavelength shifts. In other words, quartz and the sample react in an identical way to small shifts of wavelength, and these shifts are automatically compensated and the effect becomes irrelevant. This ensures long time stable high precision measuring results without the necessity of recalibration over the lifetime of the instrument. Beside the unnecessary recalibration the Saccharomat V uses an energy saving LED, keeping the maintenance efforts minimal. The functionality of the device can be monitored using triple quartz control plates.
High performance patented sugar polarimeter
Intuitive user interface
No re-calibration needed
High stability of measuring values
Measurement of dark samples after filtration with SCHMIDT + HAENSCH Autofilt Z® with NIR-WL
High resolution 7″ TFT touchscreen
Energy saving LED light source
Combination with Polarimetry possible – SCHMIDT + HAENSCH Purity Analyzer
With the use of corresponding polarimeter tube and its self-sealing coupling for quick and safe connection to water circulators, an automatic temperature compensation is made possible. The Polartronic V allows even for dark samples with a high absorption to be measured at NIR wavelength (882.6 nm) after filtration with the "AutoFilt Z" unit. Additional clarification is not necessary. Paired with ATR-P, Pol and Brix values can be measured simultaneously – see SCHMIDT + HAENSCH Purity Analyzer. The continuous measurement can be performed under user-specific methods selected over the intuitive operation system displayed by a high resolution 7" TFT touch screen that can be individually adapted. In addition to the freely programmable formulas up to 1000 scales are freely programmable.
The Saccharomat V is most often used within the sugar industry and sugar harvest, making it relevant for agriculture. Sugar purity and dark molasses can be analyzed with the highest reliability.
Polartronic H532 korkean tarkkuuden polarimetri
The high-resolution polarimeter Polartronic H532 with extremely high accuracy is our star instrument for scientific research, quality laboratories, and R&D. Measuring optically active substances and determining optical rotary dispersion are made simple with this reliable and precise polarimeter.
This instrument with its elegant and robust housing is calibration free and requires minimal maintenance.
The high-resolution polarimeter Polartronic H532 with up to five wavelengths measures the optical rotatory dispersion (ORD) in highest precision. The technology of the Polartronic H532, which is securely packaged under the elegant and robust housing, works with a further developed software, which is known from the ATR series refractometer, with a large programmable display.
High performance circle polarimeter with up to five wavelengths
Ideal for applications requiring extreme accuracy when dealing with different substances,g. in pharmaceutical, medical, and chemical laboratories
Calibration free because of spectral lamps
Continuous measuring mode
GLP/GMP conform
21 CFR part 11 ready
The input of the following specifications is possible: sample identification numbers, statistical evaluation in the case of multiple measurements, and protocols to be defined by the user for output via a printer or PC, individually adjustable for each of the ten available methods. With automatic temperature correction, safe and documented results under GLP/GMP, and short measuring times, the Polartronic H is a trusted partner for highest demands in quality and research laboratories, from basic research to higher pharmaceutical formulas. With Aquisys 2 a 21 CFR Part 11 ready software is available. Beside the standard wavelengths (365 nm, 435 nm, 546 nm, 579 nm, and 589 nm), others can be installed upon request. Due to integrated spectral lamps the Polartronic is calibration free and there is no mechanical wear, resulting in minimal maintenance effort.
The SCHMIDT + HAENSCH Polartronic H532 finds its application in pharmaceutical, medical, and chemical laboratories, as well as in academic research and R&D. Measuring optically active substances is made easy and the optical rotary dispersion can be determined, as well as concentration and specific rotation, chirality, and wavelengths. The accurate measurement of the optical activity of liquids according to ICUMSA, O.I.M.L., Australian Standard K 157, European, and American Pharmacopoeia is possible.
Our state-of-the-art refractometer delivers highest precision measurements throughout the entire product lifecycle. The VariRef allows multi-point calibration for the most complete measurement range, thus giving you the tools for a fast and economic maintenance at your side. With the VariPol's rapid temperature control and adjustable sample compartment, both liquid and solid samples can be measured. All Vari instruments are connectable to web browsers, e.g. Google Chrome , on your favorable device, smartphone, tablet, or personal computer.
Pharma-ready module with 21 CFR part 11 compliance is available, including all documents, options, and methods.
The new user-friendly Aquisys 3 software can be accessed either using a 7" user interface or remote via Google Chrome on your favorite device, smartphone, tablet or personal computer. As part of the VariFamily the VariRef can be used from different users simultaneously, enabling lab managers to handle and sign data, while lab technicians are still measuring.
Liquid and solid samples
Modular and connectable to network 
Multi-point calibration for full measurement range
User friendly 
Fast temperature control, rapid measuring results 
Easy cleaning
Maintenance free 
21 CFR part 11 conform 
ELN; LIMS ready
Modules of the Vari Ref are:
VariRef A: high standard, high resolution and repeatability; mainly for research and development and special pharmaceutical applications
VariRef B: different measurement ranges depending on application, highest range of temperature, for all different industries (depending on measurement range)
VariRef C: basic model, most economic version, high temperature range, for all simple applications such as use in the food industry production labs.
The VariRef combines proven SCHMIDT + HAENSCH technology with the modularity of the VariFamily. The new double isolated peltier systems allows fast temperature control and reduces the influence of environment temperature, resulting in rapid and precise measurements. The VariRef has the well-established SCHMIDT + HAENSCH sample chamber. Its flat shape is ideal for easy cleaning. Different sample chamber covers for liquids and solid samples makes it possible to adapt the device to your application. When dealing with hard-to-clean or hazardous materials we offer a special covered version to ensure a long and reliable product lifespan.
SCHMIDT + HAENSCH refractometers can be used for purity investigations, sample recognition, dilution control or composition. They are also used for characterization of substances or for determination of substance composition, especially of organic liquids or raw materials. With different sample chamber compartment doors it is also possible to measure solid samples which makes it also suitable for other applications, such as quality control of optical films, glass or fibers. Refractometers are also widely used in food, oil, fuel, and other industries to measure and monitor the concentration of components throughout the fabrication process.
The SCHMIDT + HAENSCH ATR-BR is a stand-alone, critical angle refractometer for measuring liquid media from low to high viscosity, independent of opacity and color. It is adaptable to different applications in production and laboratory thanks to a broad variety of configurations while having an excellent price-performance ratio.
Up to ten user-defined scales, one of which is programmed as Brix scale by the factory, can be programmed. The casing design offers more space for a bigger LCD display and a splash proofed foil keyboard enabling to batch numbers to be entered directly. The user friendliness and easy handling of the ATR-BR also allows for the creation and printing of forms. All functions may also be controlled via PC using the remote control program. The ATR-BR also has a serial to Ethernet (local area network) converter for data transfer.
Robust refractometer
Stand-alone device
Stable , precise measurements
Versatile applications
Easy handling, user-friendly operation
Excellent price-performance ratio
Flat and small sample chamber for easy cleaning
A sample volume of 0.3 ml is sufficient for a very stable measurement of high quality and precision. The software of the ATR-BR, designed close to the practice makes it possible to calculate the mean value and to determine standard deviation and adjustable measuring delay for special measurement in dependence of the temperature.
In the chemical industry, ATR-BR can be used for analyzing a range of compounds, such as solvents, organic polymers, distilled products, or solutions of inorganic compounds. In the food and beverage industry, the ATR-BR can be applied to analyze yoghurt, jam, fruit extract, syrup, honey, coffee extract, vegetable fat, albumen, chocolate, milk, and baby foods. The quality of soft drinks, fruit juice, wine, and beer can be controlled. Medical applications include analysis of serums, blood, and urine. In the petrochemical industry, ATR-BR can be used to monitor e.g. oils, fats, waxes, naphthalenes, raw oils, varnishes, paints.